I'm so glad you stopped by. I hope that what you find here will inspire you. Maybe you'll be inspired to create a new work of your own or maybe you'll find a new awareness from the quotes and information I've included with my work. I welcome your comments.
May we all work for Peace in all that we do.
Best wishes,
Sally Green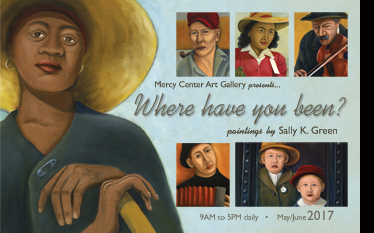 Every two months the Mercy Center Burlingame presents a new art exhibit for the community to enjoy. I am most grateful that I had the opportunity to display Where have you been? --- an exhibit from my "Life & Work" and "Leaders with a Lasting Impression" collections in the Art Gallery during May and June 2017.
Learn more...
MARK YOUR CALENDAR: My next show at the Mercy Center will begin in January and continue thru April 2018. I hope to see you there.